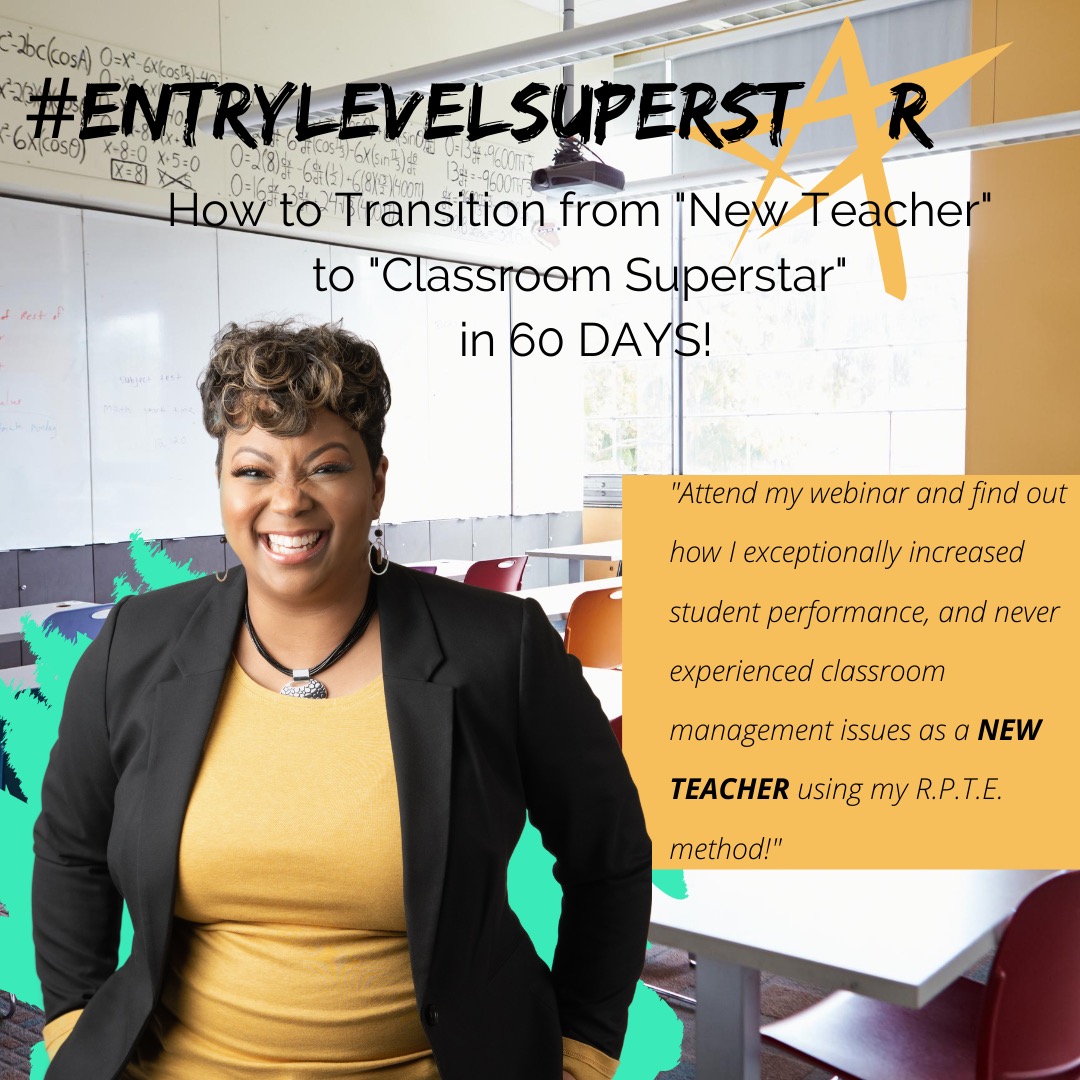 You can be an entry level teacher and a
CLASSROOM SUPERSTAR RIGHT NOW!"
---
I HAD SUCCESS!
As an entry level teacher

my students tested higher and grew more than all other first year teachers in my building and only 2nd to an over 20 year experienced teacher by a tenth of a point.  (Boy were those other experienced teachers upset! Ooops!  Did I say that?  Yeah, I did!  And I'm holding on to that victory

!
Also as an entry level teacher I never experienced classroom management issues (I mean NEVER!) and always had high parent engagement!
Within 4 years of teaching, I began my career as a school administrator where I helped transformational schools desolate of parent engagement increase parental engagement, exit state transformation lists, and earn state and national distinctions - for struggling and advanced students.
The success I experienced as a first year teacher served as the catalyst for all other successes I've experienced in education.
I WANT THAT SUCCESS FOR YOU!
---
YOU ARE  
An entry level teacher (years 0-3)  

Intimidated at the thought of being the sole adult in the classroom responsible for student learning.  

Beginning teacher who needs guidance on how to apply theory to practice.  

A teacher who wants a safe, environment where you can collaborate and ask questions without feeling weird, out of place, or behind because others have more experience.  

An entry level teacher who doesn't know what they don't know!  So you know you have questions, but don't know what those questions should be!  

Need a deep understanding of how learning works, and you want step-by-step guidance so you can by pass common pitfalls. 
---
---
---
YOU CAN BE:  
A confident teacher, with full understanding of what to expect in the classroom, because you are equipped with instructional strategies  that work!
In an environment specifically designed for your teaching stage, surrounded by peers who have questions similar to yours and help readily available.
Provided relevant, deep pedagogical, professional development by education professionals who are knowledgeable of how school-wide instructional programs work and can coach you through in-classroom and intervention strategies that increase student growth.
SO, WHAT IS ENTRY LEVEL SUPERSTAR?
---
Entry Level Superstar is an online course for entry level teachers (years 0-3).  It was designed to be a "cheat sheet" for new teachers.  As an administrator, I was SO tired of encountering new teachers who knew theory, but did not have the practical knowledge only an experienced educator could provide.  Often times, those teachers would leave the profession before discovering how talented they could really become.  This online course puts almost 2 decades of information on display for new teachers to learn, ask questions and get answers with the urgency needed to affect student learning, while using the pace needed to affect teacher learning!  
This online course offers new teachers:  
#1:  6 weeks of deep pedagogy
#2:  Learn our R.P.T.E. (pronounced "repeat") method used to help teacher with intense planning, delivery, and RESULTS!
#3:   Join a curated Mastermind Group you'll meet with weekly but with daily access, so you have an environment fueling your enlightenment.